CMC Kids Preteen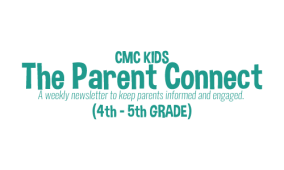 (updated 06.20.2022)
MONTH OF JUNE:
The Golden Rule - Treating others the way we want to be treated.
MONTH OF JUNE Scripture:
"But those who trust in the LORD will receive new strength. They will fly as high as eagles. They will run and not get tired. They will walk and not grow weak." Isaiah 40:31, NIrV
THIS WEEK'S QUESTION:
What are some ways we can make peace?
Car CONVO:
(Connect with your students about the message using the Car Convo Question)
Nabal and David had a great disagreement over some sheep. After Nabal answered David's men in a very harsh tone, Nabal's wife,
Abigail, gave David's men a gift in apology. In this story, have you ever been David? Have you ever been Nabal? Have you ever been Abigail?
Parent practice:
(You're the greatest influence in your students' spiritual journey.)
When you find yourself in times of conflict, how do you react?
Upcoming events:

VBS 2022: Save the date for VBS 2022 coming up on June 26-29 for Kindergarten-5th Grade! Click here to register now
SUMMER CAMP 2022: Click here to learn more and grab a spot for Look Up Lodge (for 2nd-5th Grade only)